Welcome to the fourth and final part of our series on medical studies and Cannabis. In this segment, we'll examine some of the documented health benefits of medical marijuana for patients who suffer from chronic pain, diabetic neuropathy, and arthritis. You may also be interested in reading the other portions of this series for more information about other qualifying medical conditions:
Part 1 – Medical Marijuana for Cancer, Tumors, and Glaucoma
Part 2 – Medical Marijuana for Nausea, ALS, and MS
Part 3 – Medical Marijuana for Anxiety, Insomnia, and PTSD
If you or someone you love is living with any of these conditions, medical Cannabis may be able to offer a greater degree of pain relief and symptom management than unsupported traditional treatment. To discuss whether you qualify for medical Cannabis in Massachusetts, call Inhale MD today at (617) 477-8886. We will keep your information confidential.
Medical Marijuana and Arthritis Pain Relief
Arthritis is one of the most common medical conditions in the United States. According to CDC data, approximately 52.5 million adults "reported being told by a doctor that they have some form of arthritis, rheumatoid arthritis, gout, lupus, or fibromyalgia." This data means that about one fifth of Americans live with arthritis today. Older adults are particularly susceptible, with nearly half of all adults aged 65 or older reporting a diagnosis.
There are dozens of different types of arthritis. Two of the most common forms are known as rheumatoid arthritis (RA) and osteoarthritis (OA). While there are significant differences between RA and OA, such as speed and average age of onset, both result in sore, tender, aching joints which can impede mobility and motor function, depending on which joints are affected.
Study – "Preliminary Assessment of the Efficacy, Tolerability and Safety of a Cannabis-Based Medicine (Sativex) in the Treatment of Pain Caused by Rheumatoid Arthritis"
Journal – Rheumatology
Publication Date – January, 2006
Findings – "In comparison with placebo, the CBM [Cannabis-Based Medicine] produced statistically significant improvements in pain on movement, pain at rest, [and] quality of sleep… In the first ever controlled trial of a CBM in RA, a significant analgesic [pain-relieving] effect was observed and disease activity was significantly suppressed following Sativex treatment."
Study – "Cannabinoid CB2 Receptors Regulate Central Sensitization and Pain Responses Associated with Osteoarthritis of the Knee Joint"
Journal – PLOS ONE (Public Library of Science)
Publication Date – November, 2013
Findings – "Systemic administration of the CB2 [Cannabinoid type 2] receptor agonist JWH133 attenuated [reduced] OA-induced pain behaviour… These findings suggest that targeting CB2 receptors may have therapeutic potential for treating OA pain."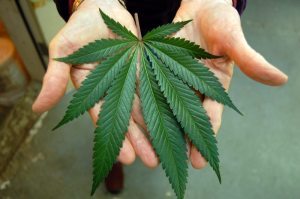 Cannabis for Injuries and Chronic Pain Conditions
Arthritis isn't the only condition which can lead to chronic (persistent) pain or intractable (constant and debilitating) pain. Other common causes of intractable or chronic muscle pain and joint pain include, but are not limited to, the following:
Cancer and Chemotherapy
Cervical and Lumbar Radiculopathies (pinched nerves)
Multiple Sclerosis (MS), Lou Gerhig's Disease (ALS), HIV
Spinal Curvature Disorders (Scoliosis, Kyphosis)
Traumatic Injuries
The following examples represent just a few of the many studies which have demonstrated Cannabis' pain-relieving or analgesic effects.
Study – "Therapeutic Benefits of Cannabis: A Patient Survey"
Publication Date – April, 2014
Findings – "Average pain improvement on a 0 – 10 pain scale was 5.0 (from 7.8 to 2.8), which translates to a 64% relative decrease in average pain… Cannabis is an extremely safe and effective medication for many patients with chronic pain."
Study – "A Preliminary Controlled Study to Determine Whether Whole-Plant Cannabis Extracts Can Improve Intractable Neurogenic Symptoms"
Journal – Clinical Rehabilitation
Publication Date – February, 2003
Findings – "Pain relief associated with both THC and CBD [Cannabidiol] was significantly superior to placebo… Cannabis medicinal extracts can improve neurogenic symptoms unresponsive to standard treatments. Unwanted effects are predictable and generally well tolerated."
How Cannabis Treats Pain Caused by Diabetic Neuropathy (Nerve Damage)
Cannabis is not a treatment for Type I or Type II diabetes, nor has medical marijuana been shown to halt or reverse the progression of diabetes. Proper diet and exercise have been shown to cause Type II diabetes to enter a state of regression in some patients. Of course, you should always talk to your doctor about the most appropriate treatment regimen for your condition.
While medical marijuana is not a cure for diabetes, it can help to ease neuropathic pain related to diabetic neuropathy. Diabetic neuropathy, or nerve damage, is a common complication of diabetes whose symptoms can range from mild to fatal. These symptoms can include numbness, muscle weakness, impaired balance, impaired coordination, increased sensitivity, and severe pain.
Study – "Low-Dose Vaporized Cannabis Significantly Improves Neuropathic Pain"
Journal – The Journal of Pain
Publication Date – February, 2013
Findings – "Vaporized Cannabis, even at low doses, may present an effective option for patients with treatment-resistant neuropathic pain. The analgesia [pain relief] obtained from a low dose of delta-9-tetrahydrocannabinol [THC] (1.29%) in patients, most of whom were experiencing neuropathic pain despite conventional treatments, is a clinically significant outcome."
Study – "A Randomized, Placebo-Controlled, Crossover Trial of Cannabis Cigarettes in Neuropathic Pain"
Journal – The Journal of Pain
Publication Date – June, 2008
Findings – "38 patients with central and peripheral neuropathic pain underwent a standardized procedure for smoking either high-dose (7%), low-dose (3.5%), or placebo Cannabis… This study adds to a growing body of evidence that Cannabis may be effective at ameliorating neuropathic pain, and may be an alternative for patients who do not respond to, or cannot tolerate, other drugs."
If you're living with a serious medical condition, medical Cannabis may be able to help provide additional relief in conjunction with traditional treatment. To talk about whether medical marijuana could be right for your condition, call Dr. Tishler at (617) 477-8886.
MA specifically qualified conditions:
And other debilitating conditions as determined in writing by a qualifying patient's physician, which may include:
Chronic back pain
Rheumatoid Arthritis
Insomnia
Anorexia
Anxiety
Depression