If you or someone you love is a Massachusetts resident living with severe, chronic back pain, and your current care plan is failing to provide the relief you need, consider talking to a doctor about the health benefits of medical Cannabis. Scientific research has shown that medical marijuana is generally a safe, tolerable, and effective method of alleviating back pain in adults diagnosed with spinal osteoarthritis and other conditions that cause back pain. Cannabis may be able to reduce your discomfort, improve your mobility and flexibility, and help you experience a better quality of life.
To discuss a personalized marijuana back pain care plan in a confidential consultation, call Inhale MD at (617) 477-8886. We're here to help you feel better.
Marijuana to Treat Chronic
Back Pain Caused by
Arthritis and Other Medical Conditions
Your back provides strength, stability, and support for the rest of your body. When your spinal column ("backbone") or back muscles are damaged or inflamed by an illness, it can become difficult or impossible to work or participate in hobbies and activities you once enjoyed. Even minor tasks, such as bending over to tie your shoes or retrieve a dropped item, become painful chores when you are suffering from severe back pain.
For many patients, Cannabis is able to provide rapid and safe relief from upper, middle, and lower back pain. This effect has been documented in a large (and steadily growing) body of scientific literature, with multiple peer-reviewed studies demonstrating marijuana's pain-relieving effects. These effects have consistently been shown to significantly outperform placebo effects. Below are just a few examples of the many studies that have demonstrated marijuana's efficacy in pain management.
In a 2008 study published in

Neuropsychopharmacology

, "

[P]

ain

relief

was significantly greater with [C]

annabis

than placebo.

The proportion of subjects achieving at least 30% pain relief was again significantly gr

eater with [C]

annabis

(46%) compared to placebo (18%).

"
In a 2009 study published in the

Journal of Pain and Symptom Management

, "

Twice

as many patients taking THC:CBD," which are two of the more extensively studied active ingredients (cannabinoids) in marijuana, "

showed a reduction of m

ore than 30% from baseline pain…

when compared with placebo (23 [43%] vs. 12 [21%]).

"
In a

2014 study published in

Inflammatory Bowel Diseases

, over 48% of patients reported that Cann

abis reduced their joint pain, such as pain in the shoulder joints

.
In a

2014 study published in the

Hawai'i Journal of Medicine & Public Health

, "

Average rep

orted pain relief from medical [C]

annabis

was substantial.

Average pre-treatment pain on a zero to ten scale was 7.8, whereas average post-treatment pain was 2.8, giving a reported average improv

ement of five

points.

This translates to a 64% average relative decrease in pain

."
Cannabis relieves back pain by activating pain-modulating CB1 and CB2 receptors, which are located throughout your body but primarily in the brain. These receptors are activated by chemical compounds called cannabinoids, which naturally occur in Cannabis. You've probably already heard of one of these cannabinoids: THC (Tetrahydrocannabinol).
When cannabinoids interact with CB1 and CB2 receptors, which are part of your body's natural endocannabinoid system, the result is a rapid and temporary alteration of your perceptions, including your perception of pain. As a result, many patients report that marijuana makes it easier for them to cope with and manage even severe physical discomfort.
Schedule a
Medical
Consultation with a Boston Marijuana Doctor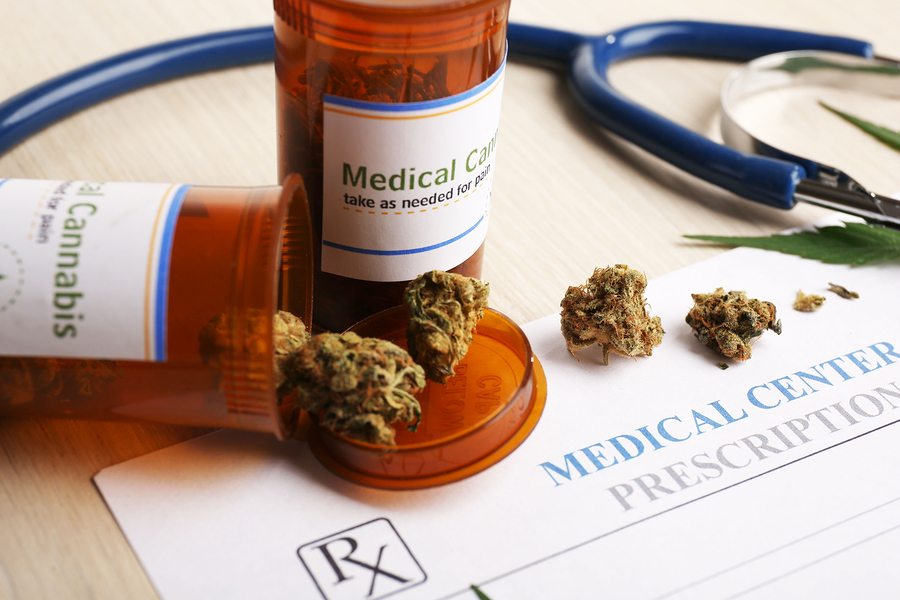 For optimal results managing chronic back pain effectively, marijuana should be used under the direction of a qualified physician who has experience treating patients through Cannabis therapies. Inhale MD, which is currently one of the only Cannabis-based medical practices in Massachusetts, is uniquely designed to serve adult back pain patients by bringing a scientific, analytical, research-based approach to this rapidly developing field of medicine.
Our patients benefit from the specialized expertise of our chief medical practitioner, Dr. Jordan Tishler, a graduate of Harvard Medical School who currently acts as an Emergency Physician, in addition to serving as spokesperson for Doctors for Cannabis Regulation. At Inhale MD, our mission is to provide Massachusetts back pain patients with a gentle, effective, and personally tailored care plan that prioritizes safety and wellness.
We work to ensure that our patients are informed and educated throughout each step of their care plan, from the initial consultation through every follow-up appointment. Because no two individuals have identical treatment needs or come from identical medical backgrounds, we meticulously assess every patient's history, lifestyle, and pain level, with regular check-ins, to continually ensure an appropriate dose and method of administration.
If your current medication isn't working for your back pain, you don't have to suffer in silence. To learn more about Cannabis treatment options for back pain patients in Massachusetts, call Inhale MD at (617) 477-8886 for a confidential medical consultation. With Boston offices conveniently located in Brookline and Cambridge, Inhale MD treats adult residents of Massachusetts.