Couples therapy can help romantic partners of all ages, genders, and sexual orientations achieve greater sexual and emotional fulfillment. Further, couples in which one or both partners suffer from serious illnesses or sexual dysfunctions, such as cancer or ALS, often have unique therapy needs. Unfortunately, conventional couples therapy typically fails to address these needs in a meaningful, specialized, or practical way.
Inhale MD takes a unique approach to better meet the needs of romantic partners, especially for those who have been diagnosed with serious chronic health conditions. Unlike conventional therapists or counseling services that provide couples therapy in Massachusetts, Inhale MD incorporates marijuana (Cannabis) into each couple's course of therapy to achieve greater physical and emotional comfort, pleasure, and wellness.
To learn more about how marijuana can help you and your husband, wife, boyfriend, or girlfriend enjoy greater physical and emotional intimacy, contact Inhale MD at (617) 477-8886 for a consultation. There's no such thing as a "bad" question, and your information will be kept completely confidential.
Couples Therapy Using Marijuana for Enhanced Sexual Wellness
While every couple expresses their love and sexuality differently, sexual wellness is a key ingredient of a fulfilling romantic relationship. Sexual difficulties can make both partners feel frustrated, depressed, and unable to connect with each other the way they used to. Some common examples of sexual problems in men and women include:
Male Sexual Disorders

Erectile Dysfunction (ED, "Impotence")
Inhibited or Delayed Ejaculation
Low Libido/Inhibited Sexual Desire
Premature Ejaculation (Early Finish)
Female Sexual Disorders

Difficulty Achieving Orgasm(s) (Anorgasmia)
Dyspareunia (Painful Intercourse)
Low Libido/Inhibited Sexual Desire
Vaginal Dryness
Vaginismus (Vaginal Spasm)
These issues may be side effects of other illnesses, such as PTSD, depression, anxiety, cancer, ALS, arthritis, or chronic pain. In other cases, they arise independently in otherwise healthy individuals. In either situation, Cannabis may be able to provide fast-acting yet gentle relief with minimal side effects which most people describe as being easy to tolerate.
How Marijuana Treats and Enhances Male and Female Sexuality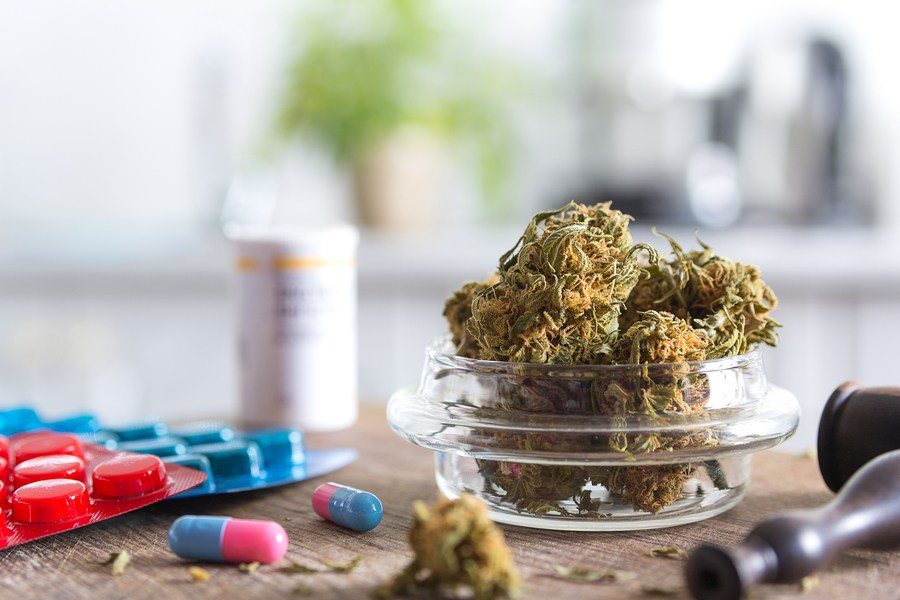 Prescription drugs such as Cialis and Viagra are an important approach to Erectile Dysfunction. However, these medications only address ED in men, and do nothing to help women's issues. They are also unsafe for many men, and moreover, do nothing to address the fears, anxieties, and psychological pain which often underlies persistent sexual dysfunction in men and women. Additionally, in cases where the dysfunction is the product of discomfort, nausea, or pain caused by another illness, such as cancer, medications such as Viagra offer essentially no relief because they target merely one narrow set of physiological functions.
Cannabis, which can be used daily by both men and women with minimal risk of long-term harm, offers a more comprehensive, holistic approach to sexual health by simultaneously working to counteract the physical and emotional obstacles to sexual enjoyment. By working to treat or alleviate the underlying causes of sexual dysfunction, Cannabis has helped countless people from diverse backgrounds overcome otherwise insurmountable barriers, empowering men and women to enjoy happier, healthier sexual relationships with the people they love.
By stimulating your CB1 and CB2 receptors – a process which temporarily changes the normal function of your brain's mood- and pain-regulating endocannabinoid system – THC (Tetrahydrocannabinol), CBD (Cannabidiol), and other cannabinoids found in marijuana quickly begin to affect your physical perceptions while altering your psychological state. While a very small minority of people report unpleasant effects such as increased anxiety, these events are usually related to taking too much and can easily be avoided. Most individuals have the opposite experience. The benefits of Cannabis use for treating sexuality include:
Increased sexual interest (libido) in both women and men
Increased focus on the romantic/sexual encounter
Decreased anxiety and distraction
Increased vaginal lubrication and relaxation in women
Increased intensity and frequency of orgasm in both men and women
Increased duration for men with premature ejaculation, yet easier orgasm for men with inhibited orgasm
Increased sense of connectedness and satisfaction in both women and men
These effects allow men and women to experience more physically and emotionally satisfying sexual relationships.
Boston Sexual Treatment Doctor for Men and Women in Massachusetts
Inhale MD was founded by Dr. Jordan Tishler, a Harvard Medical School graduate and practicing Emergency Physician, in order to ensure that more people who have been diagnosed with chronic illnesses would receive compassionate, personalized, effective, research-driven, and medically sound care under the guidance of an experienced healthcare professional. A passionate advocate for the rapidly growing medical discipline of Cannabis therapy, Dr. Tishler is committed to helping men and women learn how Cannabis can be used safely and efficiently to achieve greater physical and psychological wellness.
If you are a Massachusetts resident age 18 or older, and you and your loved one have been experiencing sexual difficulties, Dr. Tishler can help guide you toward the goals you and your partner hope to achieve. To learn more about whether Cannabis-based couples therapy could be right for you and your partner, call Inhale MD at (617) 477-8886. In addition to our conveniently located Boston area offices in Cambridge and Brookline, we also provide secure and confidential online consultations for patients who are unable to travel.