Cerebral palsy (CP) is a congenital, neurological disorder which affects the patient's muscle movements, balance, and physical coordination. While some people experience mild CP symptoms and are able to ambulate independently, patients living with severe cerebral palsy have mobility problems that can cause intense pain while making it difficult or impossible to perform basic tasks without assistance. While a variety of medications, such as muscle relaxants and anticholinergics, are available for easing the effects of CP, these drugs are not always successful in providing effective relief for patients. However, medical marijuana be able to help cerebral palsy patients manage their symptoms and enjoy a better quality of life. If you or one of your loved ones has been diagnosed with cerebral palsy, you may want to consider asking your physician about qualifying for medical marijuana in Massachusetts.
Cannabis Relieves Muscle Pain Caused by Cerebral Palsy and Multiple Sclerosis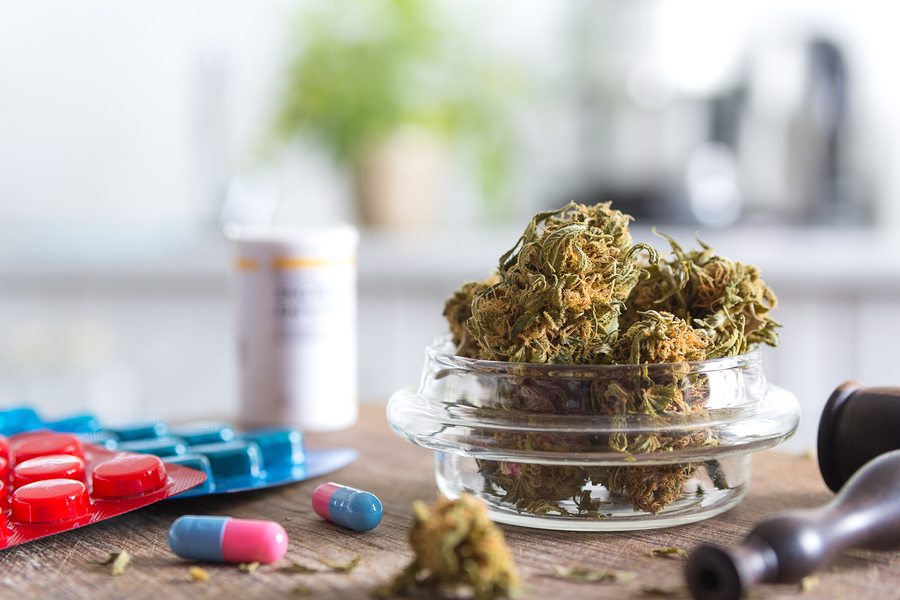 Recent, peer-reviewed medical research has shown that Cannabis is highly effective in relieving pain caused by CP-associated spasticity, or muscle tension, which may manifest as:
Spastic Quadriplegia – Spasticity affecting the face, torso/trunk, and each limb.
Spastic Hemiplegia – Spasticity affecting only the right or left side of the body, with effects generally more pronounced in the affected arm than leg.
Spastic Diplegia – Spasticity primarily affecting the legs, with milder effects on the arms.
According to a study published several years ago in the American Journal of Physical Medicine and Rehabilitation, which surveyed 83 adult CP patients regarding methods of pain relief, "The [pain] treatment that was rated as providing the most relief was marijuana." Comparing the results of patient surveys, researchers found that Cannabis as an analgesic outperformed hypnosis, nerve-blocks, and anticonvulsant medication (e.g. Neurontin, Lamictal, Topamax). The study noted that "patients with CP are using [Cannabis] for pain management and are finding it to be at least as effective as other more standard treatments for pain."
Cerebral palsy shares some similarities with the nervous system disorder multiple sclerosis (MS), which, like CP, can also cause muscle rigidity, pain, and impaired coordination. MS also shares another similarity with CP: the pain it causes can be effectively managed with marijuana. A 2008 study published in the Journal of Neuropsychiatric Disease and Treatment, which focused on the relationship between Cannabinoids and MS-associated spasticity, made an important observation about marijuana and pain relief:
"Current treatments of MS are partially effective and with risks of side effects that patients are often unable to tolerate. This has led some MS patients to self-medicate with Cannabis, which is suggested by anecdotal evidence to be beneficial in controlling symptoms such as spasticity, pain, tremor, and bladder dysfunction, claims supported by recent clinical trials of medical Cannabis extracts."
Marijuana Has Milder Side Effects than Prescription Drugs for CP and MS
The Neuropsychiatric study was right to point out that conventional medications for MS (and CP) can be tough on the body. Not only is medical marijuana equally or more effective than a host of other remedies – it also has much milder adverse effects.
Negative side effects of using marijuana are generally limited to dry mouth, coughing, sore throat, and, in some patients, temporary feelings of anxiety which dissipate after several hours (if experienced at all). By comparison, the anticonvulsant drug Neurontin (gabapentin), which is used to treat both CP and MS, can cause:
Depression or increase in suicidal thoughts.
Multiorgan hypersensitivity, a potentially life-threatening allergic reaction.
Unfortunately, despite its patient-confirmed ability to gently and effectively reduce pain from muscle stiffness related to CP and MS, Cannabis remains woefully underutilized as a treatment method. As the Rehabilitation study on CP pain noted, "[L]ess than 5% of the sample [for a total of only four out of 83 people] reported ever using this drug for pain."
The good news is that, as Massachusetts and other states continue to create or expand medical marijuana programs, Cannabis seems destined to become increasingly popular as a safe and gentle pain-reliever for CP and MS patients.
While Massachusetts' medical marijuana act in its current form does not explicitly name CP as a qualifying condition (as it does MS), the legislation does contain a broader provision which allows physicians to recommend Cannabis therapy for diseases and disorders not otherwise specified in the text of the act. If your doctor determines that the health benefits of using medical Cannabis would, in your case, outweigh the drawbacks, he or she may make a written recommendation so that you can become a registered medical marijuana patient in Massachusetts.
Contact a Medical Marijuana Doctor Find Out How Cannabis Can Help You
If you're living with cerebral palsy or multiple sclerosis, and your current medication isn't helping to significantly reduce your symptoms, medical Cannabis may be able to provide additional relief with minimal adverse effects. To talk about whether medical marijuana could be right for you, call Dr. Tishler at (617) 477-8886.